Nominations open for Inspire Justice Awards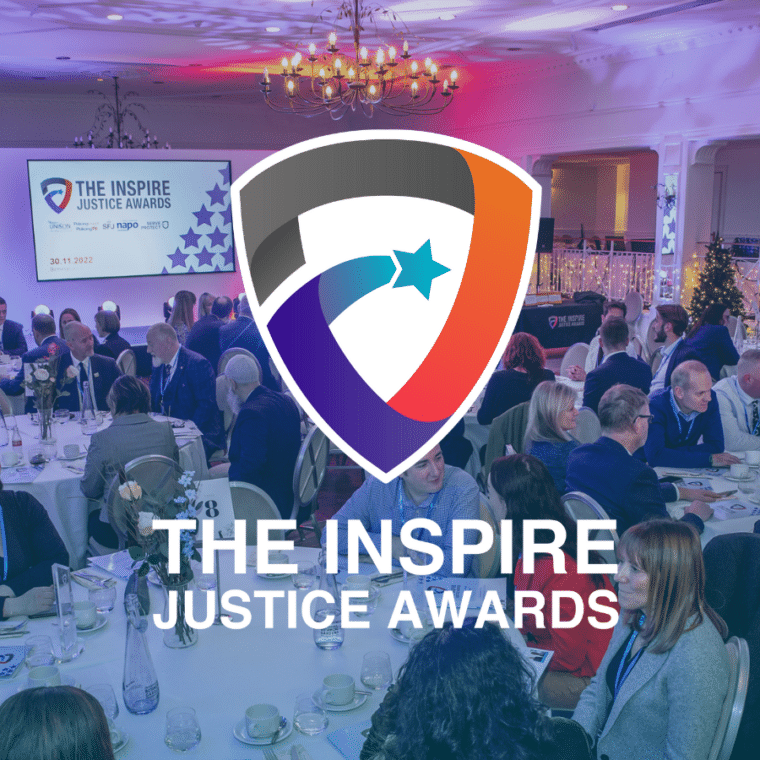 From call handlers and workforce planners to data analysts and victim support workers and many more, the wider justice workforce are key allies and partners in enabling front-line staff to maintain public safety and reduce crime.
Across 11 categories, the Inspire Justice Awards recognises the outstanding achievements of teams and individuals upon whose expertise the justice system is so dependent:
Apprentice of the Year – sponsored by SFJ Awards
Best Newcomer Award
Courts and Tribunals Staff Member of the Year – supported by HMCTS
Custody and Detention Staff Member of the Year
Equality, Diversity and Inclusion Initiative
Health and Wellbeing Employer
Learning and Development Programme
Police Staff Member of the Year – sponsored by UNISON
Probation Staff Member of the Year – sponsored by UNISON
Prosecution Staff Member of the Year
Voluntary Contribution to Community Safety and Justice
Nominations are welcomed from across the community, including from colleagues of the inspirational teams and individuals that represent some of the best and brightest members of the wider justice workforce.
Nominations are now closed. Find out about the next steps for these awards here.
Following a rigorous judging process, finalists will be notified in September, before the winners are announced at a glittering awards ceremony held at the QEII Centre in London on Thursday 26 October.
John Rogers is Chief Executive of Skills for Justice – organisers of the Inspire Justice Awards. He comments:
"Skills for Justice is a vocal champion of the wider justice workforce and the objective of these awards is to say 'thank you' to all those who have made a significant difference to the safety and security of our communities."
National Officer for Policing and Probation at UNISON Ben Priestley comments:
"The Inspire Justice Awards give everyone in policing and probation, and those in the communities they serve, a chance to nominate someone special for one of these important awards. UNISON is proud to be involved on behalf of all of our police and probation members."
Paul Harris, Operations Director, HMCTS adds:
"HMCTS is delighted to celebrate the exceptional talent and achievements of the individuals and teams working across the justice sector. The contribution our staff make on a daily basis to help keep the justice system running smoothly deserves to be formally recognised, and we're thrilled to be able to offer this opportunity through our participation with Skills for Justice and the Inspire Justice Awards."
Candace Miller is Managing Director of SFJ Awards – 'Apprentice of the Year' category sponsors. She comments:
"There are many people in truly important roles within our criminal justice sector, but they often go unnoticed. As the leading Awarding and apprenticeship End-Point Assessment Organisation for the justice sector, SFJ Awards is proud to support the Inspire Justice Awards and celebrate the skills and expertise of all involved."