Inspire Justice Awards 2023 finalists announced ahead of ceremony in October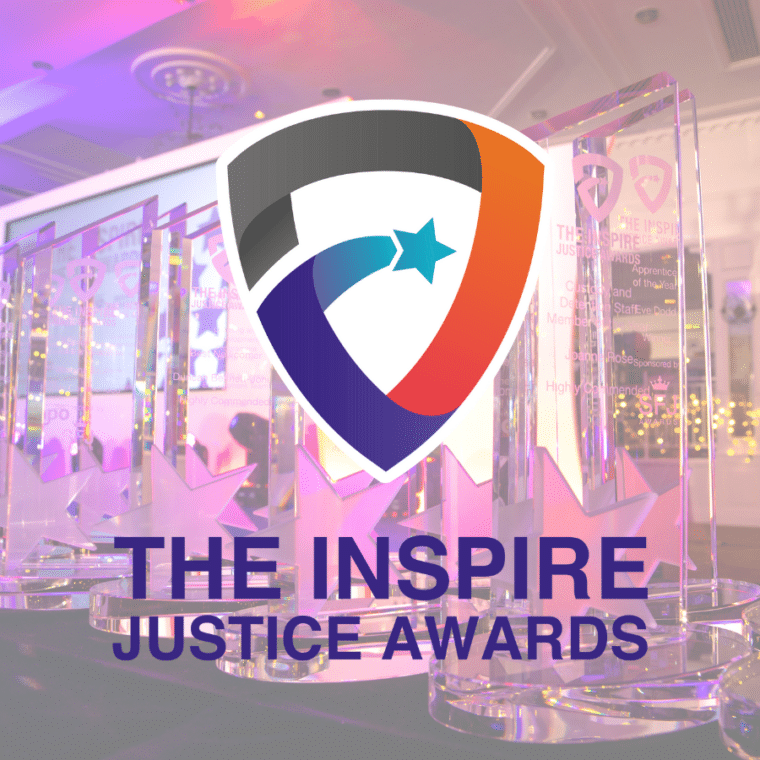 The Inspire Justice Awards celebrate the wider justice workforce, shining a light on those who help keep the UK's criminal justice system running smoothly. These awards are delivered by Skills for Justice, in partnership with Unison, BT, HM Courts and Tribunals Service (HMCTS), SFJ Awards, Policing Insight and Policing TV.
Across eleven award categories, twenty-two finalists have been shortlisted by our expert panel of judges. All finalists have been contacted and invited to attend the awards ceremony taking place on Thursday 26 October at the QEII Centre in London.
The finalists are…
Apprentice of the Year – Sponsored by SFJ Awards
Kit Swales, Apprentice Firefighter at Nottinghamshire Fire and Rescue
Ellie Hutton, PCSO Apprentice, Northumbria Police
Best Newcomer
Gareth Mills, Probation Service Officer, HM Prison and Probation Service (HMPPS)
Cassie Ellard, ID and Banking Administrator, HMPPS
Courts and Tribunals Service Staff Member of the Year – Supported by HM Courts and Tribunals Service
Jordana Allen-Rowlandson, Crown Court Clerk, HMCTS – Winchester Crown Court
Paul Lewis, Regional Safety and Security Officer, HMCTS
Custody and Detention Staff Member of the Year
Stephen Head, Garden Manager, The Clink Charity
David Hammond, Supervising Officer, HMP Holme House
Police Staff Member of the Year – Sponsored by Unison
Margaret Davis, Deputy Branch Secretary, Essex Police
Stephanie Booth, Lead Health and Safety Trainer, Humberside Police
Probation Staff Member of the Year – Sponsored by Unison
Graham Taylor, Head of Probation, HMPPS
Robbie Dhesi, Senior Admin Officer, HMPPS
Prosecution Staff Member of the Year
Marie Watton, Senior Crown Prosecutor, Wessex Crown Court Unit at Crown Prosecution Service (CPS)
Parmeen Panesar, Paralegal Officer, Appeals and Review Unit at CPS
Equality, Diversity and Inclusion Initiative of the Year
Equalities Team, HMP Doncaster
Lived Experience team and Internal Expert Panel, HMPPS
Health and Wellbeing Employer of the Year
Hepatitis C Trust
Wellbeing Team, Cleveland Police
Learning and Development Programme of the Year
The Clink Charity
Continuous Professional Development Team, Police Scotland
Voluntary Contribution to Community Safety and Justice
Prisoners' Education Trust
Winchester and Salisbury Crown Courts, HMCTS
At the awards ceremony in October we will reveal who of these twenty-two finalists are our category winners and who are our highly commended runners up. Good luck to all our finalists!
Follow #InspireJusticeAwards on Twitter or LinkedIn for the latest updates.